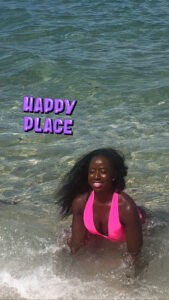 As I was waiting for my flight back from a much-needed vacation, I happened to pop onto Instagram only to hear about another innocent, young, black man killed by the police.
I was filled with anger Especially after already hearing about Breonna Taylor, a beautiful sis inside and out, not to mention an essential worker, who was killed in her own bed. Like, what the fuck? You can't even sleep in your own bed anymore without being killed by the cops! Or how about 19-year-old Oluwatoyin Salau? A young sis who was out doing the work and being an activist for Black Lives Matter who was allegedly killed by one of her own.
I definitely had to take a deep breath and remind myself that I just can't become someone filled with evil and hate. My work as a doula and fitness coach serving women of color requires me to be filled with love and joy and to consistently practice healing.
Tips for reclaiming your peace:
1. Give. Donate money to one of the many activist movements such as
Until Freedom.
2. Relax. Massage your body with hot oils such as coconut or olive oil.
3. Exercise. I hate to jog but, I'll tell you, a 20 minute run in the morning allows me to remove anger and to refocus on me.